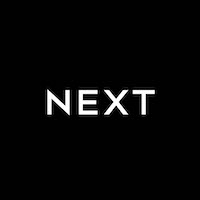 Next design all the latest trends for the modern family. Defining what to wear and how to style it, season after season. As a company, they are committed to exceptional service and aim to make their shopping experience as convenient as possible for customers. Discover classic contemporary style across homeware, fashion and accessories for the whole family, evidenced in the combination of outstanding design, great quality and true value.
Read More
The company was founded by Joseph Hepworth in Leeds in 1864 as a tailor under the name of Joseph Hepworth & Son. Hepworth expanded the company rapidly, becoming a pioneer for the development of chain stores in Brittan, establishing over 100 outlets by 1884. In 1981 the company bought womenswear retailer Kendall's and redeveloped the business into a chain of shops to compliment its Hempworth's menswear offering. Designer Terrance Conran recruited George Davis to work at Kendall's, who went on to rebrand the company and launch Next in 1982. The company bought youth brand Lipsy in 2008. In 2009, Next launched an online catalogue for the United States offering clothing, shoes and accessories for men, women & children.
Next offer a Home Design service that can help you create an inspired look in your home. Whether you want to update a room or plan a complete redesign, their Home Design experts can help. With the help of their expert Home Design Consultants, you can achieve the look you ant whatever your budget. All they ask is that you bring some phots and measurements and you'll receive a full design theme along with a handy shopping list. Contact the team in-store to find out more or book your appointment.
With over 12,000 styles online and next day delivery as standard there is so much for you to discover at Next both in-store and online. Items ordered by midnight online are available in-store from 12 midday Monday to Saturday and from 2pm on Sundays.
Opening Hours
| | |
| --- | --- |
| Monday | 9:30 am – 7:30 pm |
| Tuesday | 9:30 am – 7:30 pm |
| Wednesday | 9:30 am – 9:00 pm |
| Thursday | 9:00 am – 9:00 pm |
| Friday | 9:00 am – 9:00 pm |
| Saturday | 9:00 am – 7:00 pm |
| Sunday | 10:00 am – 7:00 pm |