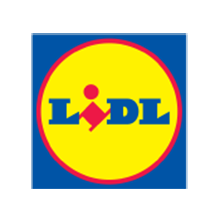 Lidl is Ireland's leading discount supermarket, stocking all of your daily essentials as well as a large selection of premium own brand products, all at the best prices.
The company is committed to enhancing the lives of its customers, by providing quality products at market leading value, whilst ensuring that customer satisfaction is at the heart of everything they do. Lidl's mission is to ensure leading market quality and value by constantly innovating and optimising their efficient processes, driven by technology and people. The also work with business partners in sustainable relationships in turn contributing positively to local communities. Lidl plan to ensure long term success by constantly investing in the training & development of their teams.
Read More
Dating back to 1930's Germany, a small independent grocery wholesaler was born. Fast track to today and Lidl have become one of the largest retailers in Europe. The first Lidl stores were open in 1973, and by 1980's Lidl was a household name in Germany. During the 1990's they started branching outside of Germany and today can be found all across Europe. In fact, their extensive network of stores is unrivalled in the discount sector.
Opening Hours
| | |
| --- | --- |
| Monday | 9:00 am – 9:00 pm |
| Tuesday | 8:00 am – 10:00 pm |
| Wednesday | 8:00 am – 10:00 pm |
| Thursday | 8:00 am – 10:00 pm |
| Friday | 8:00 am – 10:00 pm |
| Saturday | 8:00 pm – 10:00 pm |
| Sunday | 9:00 am – 9:00 pm |