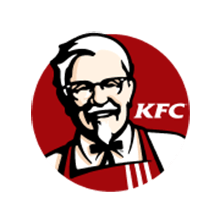 KFC Corporation, based in Louisville, Kentucky, is one of the few brands in America that can boast a rich, decade's long history of success and innovation.
Kentucky Fried Chicken was founded by Colonel Harland Sanders, an entrepreneur who began selling fried chicken from his roadside restaurant in Corbin, Kentucky during the Great Depression. KFC popularized chicken in the fast food industry, diversifying the market by challenging the established dominance of the hamburger. Branding himself Colonel Sanders, the founder became a prominent figure of American Cultural history, and his image remains widely used in KFC advertising.
Read More
Sanders was dissatisfied with the 35 minutes it took to prepare his chicken in an iron frying pan, but he did not want to deep fry. Although a much faster process, in sanders opinion it produced dry and crusty chicken that was unevenly cooked. On the other hand if he prepared the chicken in advance of an order, there was sometimes waste at the end of the day. In 1939, the first commercial pressure cookers were released to the market. Sanders bought one and modified it into a pressure fryer, which he then used to prepare chicken. The new method reduced production time and retained the quality and great taste of pan fried cooking.
Not long after, Sanders created a soon to be famous recipe, using a list of secret herbs and spices scratched out on the back of a door to his kitchen. Now KFC is the world's most popular chicken restaurant chain, specialising in the same original recipe along with extra crispy chicken, home-style sides and buttermilk biscuits.
There are over 20,500 outlets in more than 125 countries and territories around the world. And you know what? There's still a cook in a kitchen in every last one of them, freshly preparing delicious, complete family meals at affordable prices.
Opening Hours
| | |
| --- | --- |
| Monday | 11:00 am – 11:00 pm |
| Tuesday | 11:00 am – 11:00 pm |
| Wednesday | 11:00 am – 11:00 pm |
| Thursday | 11:00 am – 11:00 pm |
| Friday | 11:00 am – 12:00 am |
| Saturday | 11:00 am – 12:00 am |
| Sunday | 11:00 am – 11:00 pm |