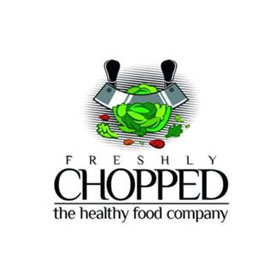 Freshly Chopped launched in Dublin in May 2012. Today they sell over 20,000 healthy salads every week as well as healthy blended wraps, tasty sandwiches and hearty homemade soups.
Freshly Chopped was born in Ireland through pure love of health and fitness, with a true lack of nutritious food available to people wanting to live a healthy lifestyle on the go. The name Chopped is derived from the unique way of preparing food using their super-hero mezzaluna knife to provide fast healthy food to you over the counter.
Read More
At Freshly Chopped they are hungry to bring you fresh, clean and nutritious food served quickly. Their mission is to offer you simple and delicious food to easily add healthy food choices to your busy day. The skilled team prepare quality fresh produce from your very own personal choice of ingredients, with the Create Your Own Menu- or from their full menu available at the fresh deli counter in-store. Your selected salad is then sent to the open theatre chopping stations to be freshly chopped and dressed by their superstar Choppers. Fresh healthy food created in minimal time.
If you are seeking healthier alternatives to traditional fast food, Freshly Chopped offers just that. By using only the freshest ingredients and the highest quality produce available, Chopped have developed a huge, loyal customer fan base. Crisp lettuce selections, garden fresh vegetables, incredible salad dressings, and more that 30 ingredients are 'Chopped' and freshly dressed into their unique salad bowl.
Skip the queue and pre order online by downloading the Freshly Chopped APP on your smartphone or tablet device from the iOS APP Store or the Google Play Store. The Freshly Chopped APP has been developed to meet the growing needs of the healthy lifestyle minded customer who wants a great tasting meal that is both delicious and fresh.
Opening Hours
| | |
| --- | --- |
| Monday | 10:00 am – 6:00 pm |
| Tuesday | 10:00 am – 6:00 pm |
| Wednesday | 10:00 am – 6:00 pm |
| Thursday | 10:00 am – 6:00 pm |
| Friday | 10:00 am – 6:00 pm |
| Saturday | 11:00 am – 4:00 pm |
| Sunday | 11:00 am – 4:00 pm |