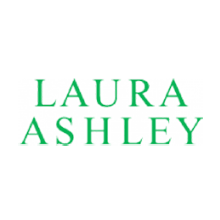 Telephone
Website
Opening Hours
Time
Monday 10:30am-6pm
Tuesday 10:30am-6pm
Wednesday 10:30am-6pm
Thursday 10:30am-6pm
Friday 10:30am-6pm
Saturday 10:30am-6pm
Sunday 10:30am-6pm
Laura Ashley, one of the world's best loved fashion and home furnishings companies comes from humble beginnings. Laura and Bernard Ashley started printing fabric on their kitchen table in London in 1953, following a Women's Institute exhibition at the Victoria and Albert Museum on traditional handicrafts.
Laura was inspired to make her own patchwork quilts, but they couldn't find any suitable fabrics in the shops, so the young enterprising couple decided to try producing their own. A ten pound investment in wood for a screen, dyes and some linen, along with many trips to libraries to learn everything about fabric printing, kick started their fledging attempts. At first they produced small squares with geometric patterns, which reflected the limited space in their tiny flat. Around this time the film Roman Holiday was released and Audrey Hepburn's headscarves in the film sparked a trend amongst young girls which the Ashley's picked up on when they went on holiday to Italy in 1952. They realised that they had the means and ability to produce small scarves themselves, and within a short space of time, were selling in great quantities to stores across the UK. Alongside the scarves the couple also produced tea towels and placemats, with designs from Victorian advertisements and playbills, often with quirky an, humorous images.
Read More
Today Laura Ashley has grown to be one of the most adored heritage brands in the world, selling everything from decorating products to fashion and accessories. Why not take advantage of Laura Ashley's end to end design service? From creating the perfect look, to making sure it all happens to the highest quality standards, this unrivalled service will help you to create your dream home. The design service begins with a home consultation. An interior designer will listen to your ideas, requirements and thoughts, using them as a focused starting point to create your fresh surroundings. The designer will have swatches, catalogues and sample books and will start to bring your vision to life. Within 7-10 days, you will receive a mood board and detailed estimate. The designer will be at your disposal to discuss and finalise the scheme. For further enquiries or to book an appointment contact the team in-store.