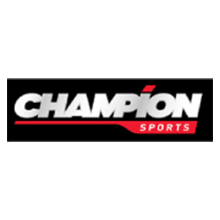 Champion Sports is part of JD Sports Fashion Plc. In January 2011, JD Sports acquired Champion Sports Irish stores. The company, more commonly known as just JD, is a sports fashion retailer based in Bury, Greater Manchester, England with outlets across the UK & Ireland.
The letters JD in JD Sports stand for the initials of the founders of the company, John & David. The JD Group now has well over 800 stores covering both sports and branded fashion but it all started when John David Sports was founded in 1981 with one shop in Bury. By 1983 the fledging business was expanding into the Arndale Centre in Manchester and throughout the 1980's there were further openings, largely in the North and Midlands.
Read More
The first London store was opened in Oxford Street in 1989 and by the time of JD's stock market flotation in 1996 there were 56 stores. Maximum advantage was being taken from the growth in sales of international sports brands such as Adidas, Nike, Reebok and Puma and the trend to wear sportswear more and more in everyday life rather than largely on sports fields. Additionally JD had already developed its reputation as the most innovative visual merchandiser of sportswear with the best and most exclusive and stylish ranges.
JD is a specialist multi-channel retailer of fashionable branded and own brand sports and casual wear combining globally recognised brands such as Nike, Adidas and the North Face with strong own brand labels such as Pink Soda and Supply & Demand. The company continually invests and review its brand relationships. JD is an industry leading retail business with the best of physical and digital retail combined to give a compelling proposition which enables its consumers to shop seamlessly across all channels. The JD fascia continues to expand its store and multichannel consumer reach and brand influence globally.