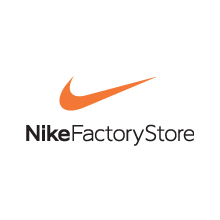 In the spring of 1972, Phil Knight and Bill Bowerman introduced the first Nike shoe with the iconic Swoosh. In the decades that followed, Nike has established itself as a world leader for performance sportswear, footwear and equipment.
More than a label, it is a state of mind shared by millions of athletes around the world. What started as a small US-based footwear distributor has grown into a global marketer of sports performance products with innovations that are unrivalled in the world. Nikes ultimate mission is to bring inspiration and innovation to every athlete*in the world! *'If you have a body, you are an athlete' – Bill Bowerman.
Read More
Nike Factory Store offer Nike performance product to serve the value customer. In their busy Dublin branch at Westend Shopping Park, customers experience a premium shopping environment that serves athletes of all ages.
The store offers great prices on its world-famous athletic apparel, allowing you to stock up on sleek, high-performance footwear, apparel, accessories and more at outlet prices. Discover an ever changing selection of Nike branded footwear, apparel and equipment from past seasons. With discounted, close-out or overrun product making up the bulk of inventory, you can outfit your family with style while saving money.
Nike has come a long way on its sustainable innovation journey. What began in the 1990s as a response to issues in a complex supply chain has evolved into a business insight at the core of Nike's growth strategy- one that focuses on delivering innovations across its supply chain to create products that are better for athletes, its business and the planet. That evolution, which turns risk into an innovation opportunity by embracing transparency and collaboration, makes sense for business and can help solve some of the world's most pressing challenges. As President and CEO Mark Parker put it: 'Nike succeeds because we're obsessed with innovation. We are relentlessly curious about our world and how we can make it better. We apply that curiosity to our sustainability efforts, and we continue to learn what is required for real, meaningful progress.'
Opening Hours
| | |
| --- | --- |
| Monday | 9:30 am – 6:30 pm |
| Tuesday | 9:30 am – 6:30 pm |
| Wednesday | 9:30 am – 6:30 pm |
| Thursday | 9:30 am – 8:00 pm |
| Friday | 9:30 am – 6:00 pm |
| Saturday | 9:30 am – 6:30 pm |
| Sunday | 10:00 am – 6:00 pm |